Use a Flat Head Pillow
In our view, using a good baby flat head pillow is one of the most simple and effective ways of helping to prevent and treat baby flat head. There are many flat head pillows on the market and some are more effective than others. Some (in our opinion) are best used only as a secondary pillow rather than for prolonged use and others we consider unsafe. Below we have given some information on some popular pillows, our view on them, as well as a selection of reviews from other parents who have used these products so that you can make up your own mind.
Baby Mimos Pillow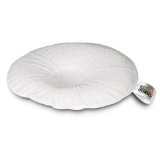 Fantastic pillow – Reduces pressure against the skull by a massive 400%. Great to prevent and reverse baby flat head
Fully breathable (has an anti-suffocation TUV certification)
Allergen and chemical free
Helps keep baby's spine in correct position.
No need to keep repositioning baby's head
We love this pillow! The MIMOS Baby Pillow
reduces pressure against a baby's head by a massive 400%, far more than any other pillow on the market. Another great plus point is that it is made of a structure which is 94% air which means it is fully breathable, comfortable and light weight. It has received an anti-suffocation certificate from the TUV which is an independent international product inspector. When we tested the pillow we held it fully against our mouth and nose and it didn't restrict breathing at all. We would be happy to use this pillow with our own baby in a cot without supervision. The pillow is fully washable and pillow covers are also available.
The Mimos pillow is allergen and chemical free, which makes it a great choice for parents concerned about the chemicals found in memory foam pillows. Baby can freely move her head from side to side and because the pillow takes so much pressure off the skull, there is no need to keep repositioning baby's head. Once baby gets more mobile or starts moving around in her sleep you may want to use the pillow together with a Snoooz Sleep Positioner to help keep her head on the pillow throughout the night.
The only negative point is that it is more expensive than other flat head pillows (between £55 to £66 depending on what size you need) but in our view it is well worth the money and the price is a drop in the ocean when compared to the cost of a cranial helmet which averages around £3000. It is also a small price to pay when you consider that, if left untreated, baby flat head can become permanent and be something your child has for the rest of his life.
The sizes are a little confusing. The large size (which is actually the smallest size) is for babies 0 to 3 months, this is really for premature babies under 39 weeks. The XL size can be used from birth for full term babies, or once your baby's head circumference is at least 36cm, and can be used up to about 10 months of age. If you are trying to correct an already flattened head and your baby is a little older, then the XXL size would probably be the most suitable for you, which can be used from 5 months to about 18 months.
I cannot recommend the Mimos pillow highly enough and would certainly use this pillow myself if we are fortunate enough to have a second baby. If you are trying to keep costs down and just want to purchase one size of the Mimos pillow, then provided your baby was full term, you could get away with just purchasing the XL pillow. This size is suitable from birth up to about ten months of age, which is the most important period for protecting your baby's head, as this is the stage when your baby's head is growing rapidly and is soft and capable of being moulded.
I have not read a single negative review about the Mimos pillow. Below is a selection of reviews from other parents.
Simply Fantastic!!!
This product is simply fantastic! I've been using it for my baby since he was 1 week old and I can attest to its claim of anti-suffocation because the product material allows free air flow. Again, my baby is now 3 months old and he sleeps soundly and has no sign of plagiocephaly. It's simply amazing and I recommend it to everybody
Fantastic pillow!
I bought this pillow when my little boy was 5 months old. He has a large head for his age and it was becoming flat at the back despite using a Goi Goi pillow from birth. After weeks of stress trying to alternate putting him on his side to help his flat head and him rolling onto his back again making the situation worse this pillow solved all my problems! No repositioning is required as specified and within a few weeks there was a noticeable difference to his head and it's the best it has ever looked. This is the best pillow on the market to treat babies with a flat heads but also to prevent them from getting a flat head in the first place in my opinion. I wish I had known about Mimos earlier as it would have prevented him from getting a flat head at all.
This pillow is amazing!!
My little boy was born prematurely and I noticed that from about 3 weeks of age, his head was starting to flatten on one side. I took him to the health visitor who advised that a referral would be made to see the baby osteopath. I started to read around about flat head syndrome as his head continued to get flatter on one side even with me moving/turning his head to the other side whilst he slept so as to balance out the uneveness. I looked at the variety of pillows on amazon, internet and read the reviews. In the end i decided on this one, though it is very expensive for a baby pillow, it is definitely worth it. I noticed an immediate improvement within a week of him using it. He pretty much settled into his new pillow by the second night. Although he still slept on his favoured side, the pressure was taken off by the structure of the pillow. After approx 2 months, we were called in to see the osteopath (first appointment) and by then his head was pretty much round and symmetrical. I am glad i bought the pillow, if I had just simply waited, my son's head would have become more and more flat on one side as even at the time of seeing the health visitor, it was obviously looking flat on one side. It might be expensive but it is worth every penny. He is now 7 months old and still enjoying his pillow. I found it also makes good use as a tummy time pillow.